Health benefits of yarn crafting
---
---
Health benefits of yarn crafting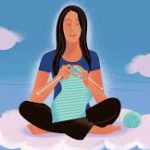 Ok, here is some pretty great information that makes me love my hobby even more!!!  There are some very real health benefits to yarn crafting.

Here is a list of the top 5 health benefits:
1) Relieves Depression
2) Reduces Anxiety
3) Builds self-esteem
4) May reduce or postpone dementia
5) Helps with insomnia
So there you have it!  The next time you're feeling a little guilty about going to the local craft store to buy another bunch of yarn you can feel good about knowing that you are actually improving your overall health and wellness.

Tags:
health benefits of crafting
,
how hobbies can boost your brain power
,
yarn crafting